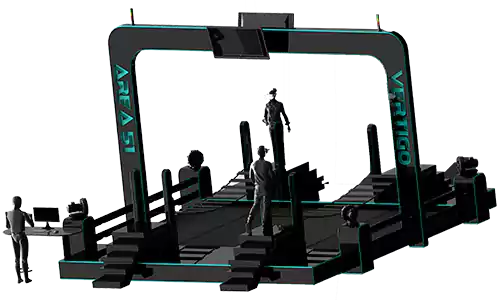 Our spin on the Walk the Plank experience. Turn into a virtual adventurer, as you go about robbing tombs and exploring alien towers while navigating their perilous heights.Dodge falling rocks, exploding lava flows and even flying dragons as you make your way to the safety of the other side.
The Maladies of Maledictus

Thousands of years ago the evil wizard Maledictus controlled the world with an iron fist. In a last ditch attempt to rid the world of his evil, a secret society of sorcerers and witches combined and defeated him, and trapped his soul in an artefact which they magically sealed and broke. They took these pieces and hid them away in different dimensions, timelines and places, thereby ensuring that no one would be able to unite them again, and unleash Maledictus. Peace reigned for a hundred generations. Until you, the famed archaeologist and treasure hunter, stumbled across one of the hiding places quite by accident. And now your lust for this power has started to grow…

A mysterious signal goes up in the dark reaches of space and you and your partner are sent to investigate it. As you approach the signal, you encounter a large sphere and a laser shoots down your ship forcing you to crash land on the sphere. As you collect your thoughts and start exploring the sphere, you realize that you have discovered the lost civilization of Arrakesh. And they were lost for a Very Good Reason.